Pakistani journalists visit Azerbaijan`s Press Council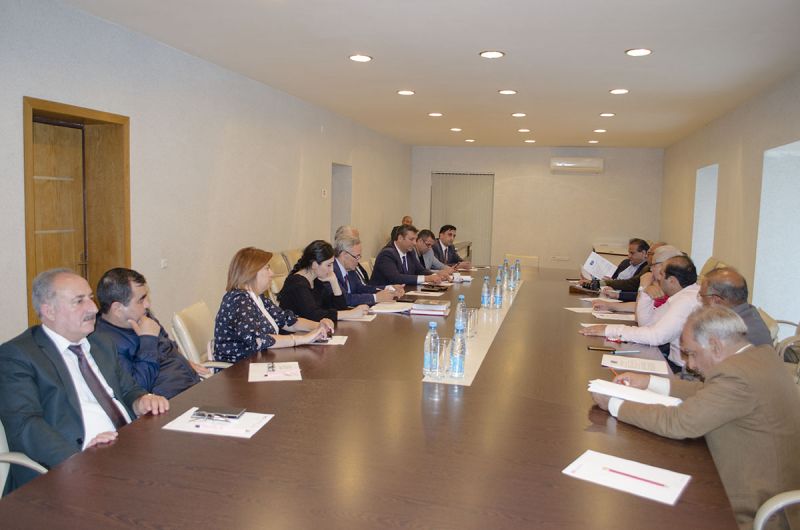 A delegation of journalists of the Islamic Republic of Pakistan, led by the president of the Executive Committee of All Pakistan Newspapers Society (APNS), head of "The DAWN Media Group" Company Hamid Harun  have visited the Press Council of Azerbaijan. The delegation comprised director of "Nawa-i-Waqt Group" market Bilal Mahmoud, editor of the "Daily The News International" Amir Ğauri, editor-in-chief of the "Diplomatic News Agency" and "Centreline" magazine, Board member of APNS Ansar Batti, representative of  "GEO Network"  and "The Jang Group" Masrur Ahmad, Board member of APNS Tanvir Tahir, leading photo-journalist, chief operation director of  "Whitestar Photos"  Arif Mahmoud.
Chairman of Azerbaijan`s Press Council, Member of Parliament Aflatun Amashov provided an insight into the activities of the Press Council he supervises, highlighted the state of country's media, freedom of press and speech in the country.  
At the meeting passed in a friendly atmosphere, the guests were informed on the experience of the Council to study complaints concerning mass media, as well as media legislation, protecting freedom of the press and speech according to the standards of journalism. The Press Council also implements public control over respect of the Rules of the Professional Code of Journalists, strengthening of contacts and trust between the public, the state bodies and mass media.
The participants also considered different issues of cooperation between Pakistan and Azerbaijan. It was noted the high level of all-side cooperation between the two countries, what necessitates media cooperation as well. The sides agreed to prepare special Memorandum of Understanding between the Azerbaijan Press Council and All Pakistan Newspapers Society (APNS). The document would provide exchange of reciprocal visits of delegations of the Pakistani and Azerbaijani media outlets, private bounds among the journalists of the two countries, formulation of exchange of reliable information.   
The meeting was attended by the deputy head of the Press Council, chairman of Journalists Trade Union Mushfig Aleskerli, the Council's Board Members – editor-in-chief of "Iki Sahil" newspaper Vugar Rahimzade,  editor-in-chief of "525-ji qazet" Rashad Majid, editor-in-chief of "Sarg" newspaper Akif Ashirli, head of the ONA News Agency Vusala Mahirgizi, editor-in-chief of "Jumhuriyyet" newspaper Rafail Bejanov, the first deputy editor-in-chief of "Yeni Musavat" newspaper Azer Aykhan.
01.05.2019