Press Council's Complaints Commission held regular meeting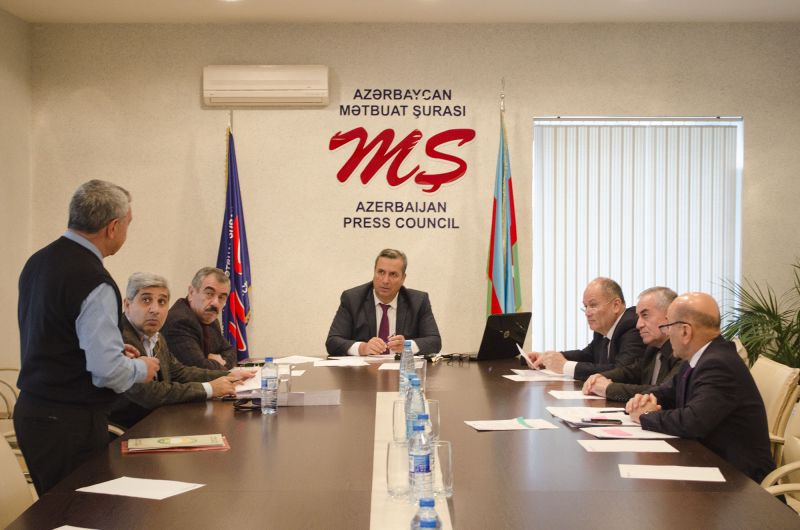 Azerbaijan Press Council's Complaints Commission held its regular meeting. Opening the meeting, chairman of the Commission, head of the Journalists' Trade Union Mushfig Alaskarli informed on the agenda.
The Commission firstly considered the complaint made by SeadetMehdiyeva, the resident of Agsu region, about the newspaper "Belediyyebirlyi". The Commission defined that in the related material the 1st principle of the Code of Professional Ethics for Azerbaijani Journalists (to serve truth, accuracy and objectiveness)was violated. The mentioned material included sharp expressions and claims against Seadet Mehdiyeva without having her position, and has been prepared one-sidedly. Representative of the newspaper has produced no argument to prove his actions. The question connected with the newspaper "Belediyyebirlyi" was recommended to consider by the Press Council's Commission on fighting racket journalism.
The complaint filed by the Azerbaijan State Agrarian University's Press and Public Relations Department against "aktualinfo.org" news portal was also considered. The complainant stated that the mentioned news portal had disseminated a critical material about the University. The portal was asked to publish refutation on the biased and groundless claims. It was published with some extra comments and out of context.  Heads of the portal accepted the Commission's recommendation to publish a new refutation. 
The complaint filed by YahyaAbbasov, director of the School 244, Baku, against "Azxeber.com", "Aktualxeber.az"websites was left unconsidered as the complainant neither participated at the meeting, nor produced necessary evidences.
The Commission considered the complaint made by AntigaAslanova, staff writer of the "Garabagh" newspaper, against its editor-in-chief who asked to postpone the consideration as he needed additional documents to prove his position. The Commission agreed, the discussion of the question will be considered at the next meeting. 
29.11.2019