"Khalggazeti" celebrates Rashid Mahmudov's jubilee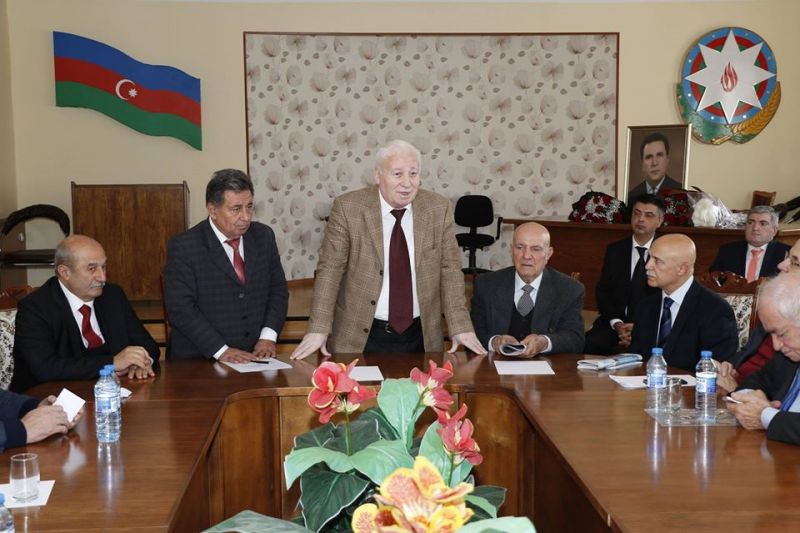 90th anniversary of Rashid Mahmudov, renowned journalist, authoritative editor and public figure, who headed "Khalggazeti" in the 80s last century, has been celebrated at the newspaper's editorial office by his colleagues, famous intellectuals and natives. The participants revered his memory and expressed gratitude to the outstanding pen-man and press organizer, who, since 50s of last century has served the development of professionalism of Azerbaijan's national press and the struggle for protection of national interests and civil values in the national press.
Moderator of the meeting, Chairman of Press Council's Elderly Journalists' Majlis, MazahirSuleymanzade spoke of the rich lifetime of Rashid Mahmudov, the renowned editor, who was born in Ismayilli, in 1929. Having graduated from the Azerbaijan State University in 1950, he was one of the first alumni of the University's journalistic department. Later, he studied at the Baku Higher Party School. In his youth years, he cooperated in the former "Kommunist" newspaper (Khalggazeti) as a literary staff writer, department chief and deputy editor-in-chief. 
In 1965, Rashid Mahmudov, as an experienced journalist, was promoted to the position of head of the press department of the Azerbaijan CP CC, then, in 1973, he was appointed the first secretary of Zagatala District Party Committee. Since 1980, Rashid Mahmudov was the editor-in-chief of "Kommunist" newspaper, since 1987 – the editor-in-chief of the journal "Azerbaijan kommunisti" and "KommunistAzerbaidzhana", in 1988-1991 – the chairman of the Azerbaijan State Committee for Publication, Polygraph and Book Trade.
As was stated, Rashid Mahmudov as a skillful public figure has headed the Union of Azerbaijani Journalists and the "Kitab" Society.  For many years, he has been the member of Azerbaijan CP CC, the deputy of Supreme Soviet (four convocations) and chairman of culture standing committee. Rashid Mahmudov, the outstanding media manager, was the country's "Honored Journalist", the winner of the "GizilGelem" and "Ustad" media awards, a number of medals and orders. In the last years of his life he was the presidential scholarship holder.   
Speaking at the jubilee ceremony, was ZiyadSamadzade, academician, MP, head of the MilliMajlis Standing Committee, MP NovruzAsanov,  People's Poet Vahid Aziz, polygraph scholar ShaddatJafarov, geologist-professor, poet Hikmat Mahmud, lecturer of BSU SonaCharkez, head of the Caucasus Moslems Department, PhD SimranHasanov, renowned poet Baba Vaziroglu, the journalists who worked with Rashid Mahmudov shoulder to shoulder, RafigHasanov, AlipanahBayramov, IsagAmanullayev, MehmanFarzullayev, staff writers of "Khalggazeti" TahirAydinoglu, IttifagMirzabayli and others, who  spoke of lifetime memories of the great journalist, who died 11 years ago. The speakers revered his memory, reminding numerous aspects of his biography, his activity as a professional journalist, skillful organizer and media manager, his love to the Motherland, kind and sincere friend, careful family head. 
Rashid Mahmudov's son, renowned lawyer BahrizMahmudov expressed gratitude to the ceremony participants for the sincere words addressed to his father.
06.11.2019