Press attaché of Turkey's Embassy to Azerbaijan visited Press Council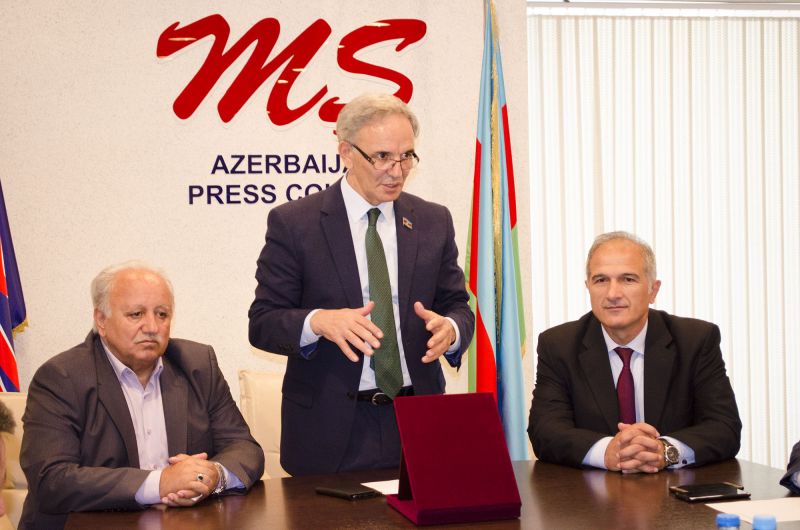 Press Counselor of the Turkey's Embassy to Azerbaijan HamitKaradeniz ended his mission to the country. To this end, the Press Counselor met with the PC Board members and heads of mass media bodies at the Press Council's office.
Opening the meeting, Chairman of the Press Council of Azerbaijan, MP AflatunAmashov stated that the high level relations between the two fraternal countries also include the media branch. From this point of view, the Embassy of Turkey, in particular, the Press Counselor plays an important role."Today, Press Counselor HamitKaradeniz is here, with us. After 6 year-long activity he ends his diplomatic mission. Sure, after his departure from Azerbaijan his heart will be here and will beat together with us". The Chairman stressed the exclusive services of Mr. Karadeniz in intensification of ties between Azerbaijani and Turkish media and presented Press Council's Diploma to him. 
Speaking at the meeting also was the PC Board members: VugarRahimzade, editor-in-chief of "IkiSahil" newspaper, AydinGuliyev, editor-in-chief of the newspaper "Baki-Xeber", NiyazNiftiyev, editor-in-chief of "Azadinform" News Agency,  MushfigAlaskarli, deputy chairman of Press Council, ShamsaddinAliyev, the Press Council's Executive Secretary,  ArzuNagiyev, Director General of "Trend" News Agency, TahirAydinoglu, deputy editor-in-chief of the newspaper "Khalggazeti", GabilAbbasoglu, editor-in-chief of "Lent.az" website, and others noted valuable merits of HamitKaradeniz  in deepening the media cooperation between Azerbaijan and Turkey during his mission.
The new press attaché of Turkey's Embassy to Azerbaijan HuseyinAltinalan praised efforts of Karadeniz to strengthen friendship and fraternity between the two nations, noting that his activity would stimulate further consolidation of the existing cooperation between the two country's mass media. He said she would spare no efforts to successfully continue this deservedly.
Taking the floor, HamitKaradeniz expressed his gratitude to the meeting participants for kind and sincere words, in particular for the fraternal attitude he was eyewitness of in Azerbaijan during his mission. 
The meeting participants revered the peacemaking efforts of Turkey in Syria, expressed their support for military operations in this country to combat terrorism.
25.10.2019